Once again, I must apologize for my month-long absence. It has been a rather difficult month for me, with a lot of things going on. Also its been unforgivingly cold outside! I never liked November anyway.
But there is one excellent thing happening in November - Marco and Perry celebrate their second birthday on November 25th! Can you believe it? The skinny boys are two :)
And you know what that means - we need a flood of baby pictures!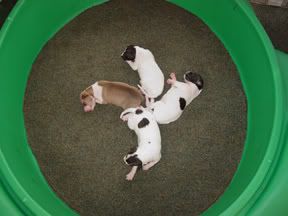 They've changed so much. I wish i had a chance to meet them when they were all small and squishy. I met the boys for the first time when they were just a hair younger than six months old and they were almost full grown already. BTW if you want to know who's who in the baby pictures - Perry is the only red puppy and Marco is the only black and white baby with no blaze on his face. He just has a white nose tip, while his other two black and white siblings had a full white stripe.
Just for kicks, here's what the boys looked like when i brought them home! Here they are at the breeder's house at 6 months old...
And here are my stunning gentlemen now...
Happy birthday skinny boys!