April 20th is the 110th day of the year according to the Gregorian calendar. It is Adolf Hitler's birthday (I just found out a few days ago). Apparently John Oliver's debut as a comedy central standup dude. The anniversary of some other jazz. And TimTim's birthday. I forgot to do a birthday tribute to him last year, and I feel obliged to ramble about him right now.
April 20th Tim turns eleven. Weeeeeell... we don't know his real birthday. My mother brought him home on August 20, 1997. I was a lonely ten year old demanding a pet. Something four-legged and furry that would play with me. It was significant to me that he had a birthday so we decided to make one up. We were told he was three months old. But he was an awfully big kitten so we assumed he was four months. We counted four months back and made it official, his birthday was to be april 20th.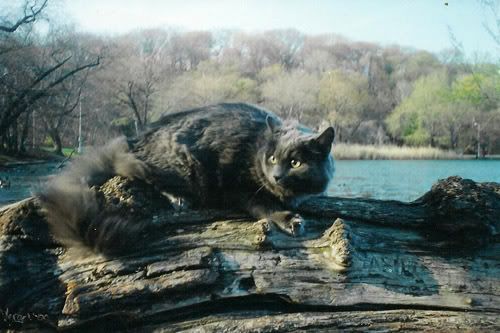 As a baby he suffered from major scaredy-cat syndrome and was the most unsocial animal i had ever met. He was alright with me and my mum but that was about it. He knew his hiding spots well and he loved to take advantage of them. Of course being a child and not understanding morale of the shy animal, i'd dig him up from those hiding spots and show him to friends that came over. Or worse - i've actually put him on a leash and walked him a few times. He's probably still holding a grudge. I've bathed him many times. I filled the tub with water and forced him to swim once (i was there and watching of course - but still it was ridiculous). I've dressed him up. I even brought another cat and two dogs into our household. He's gone through a lot of torture with me.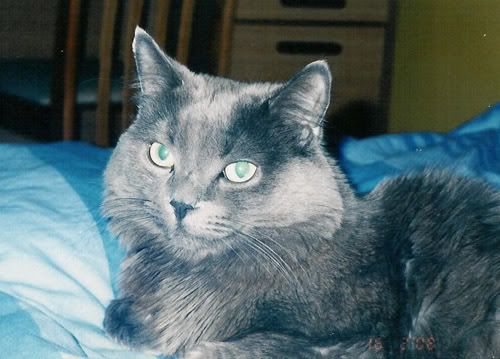 Ehh, not like Tim hasn't had his vengeful moments. He's pooped on my pants before. He's pooped all over my bed. hairballs, hairballs, hairballs - also on my bed. Within the first few days that i got him he gave me a very deep scratch - I still have the scar. I actually hope it never fades. He always has to sit on any important paper i may be reading. He walks across my keyboard. He "accidentally" puts his head on the delete key and makes my browser very quickly go through all the pages I've been to, backwards all the way to the homepage. He sheds clouds of hair - i get the feeling that years after he's no longer with us I'll still be picking his hair out of my food and finding tumbleweeds of it skirting across the room.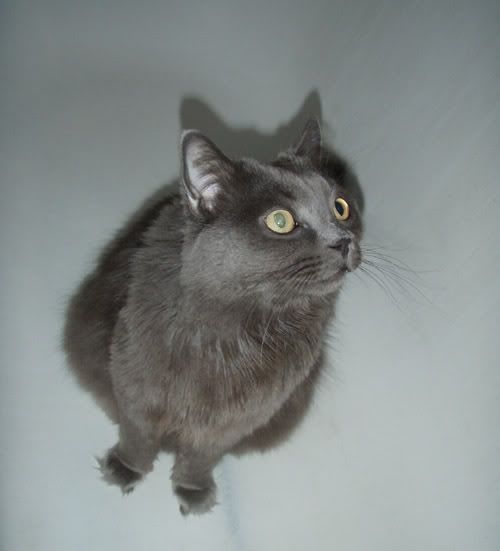 I adore this cat immensely, can you tell? And every day he continues to amuse me. He's a thinker, a dignified cat who gets embarrased easily. The best, though, is when he actually will let his guard down and be silly for a few moments. When he will chase a laser or jump after a cat toy, or get high on catnip. Y'know, as long as the other animals aren't looking. Cause they can't know that he's just like them. lol i get the feeling that i have a lot in common with Tim. We're both morally mature way beyond our years. We're not outgoing. We take pleasure in smacking others, whether they deserve it or not. We don't believe in "only human" (...or "only cat") excuses. After all, we've got a reputation to upkeep. even if its only in our heads.
Happy eleventh birthday Tim. Grumpy old man, you're a huge part of my life and I can't imagine it without you. And when I say "old man" I'm only kidding.